Angelina Jolie
has a mixture of tattoos on her body. Her left arm previously had black dragon tattoo and name of her ex husband "Billy Bob" .Both of those tattoos can't be seen anymore, as they both have been removed with laser treatments.
Instead laserly removed
tattoos
are now the line of latitude and line of longitude co-ordinates of the birthplaces where the Angelina's children were born(Maddox, Zahara, Shiloh and Pax).The co-ordinates for Nice, France, place of birth of her newly-born twins Knox Leon and Vivienne Marcheline, born July 12, 2008 are yet to be added on Angelina's arm in near the future!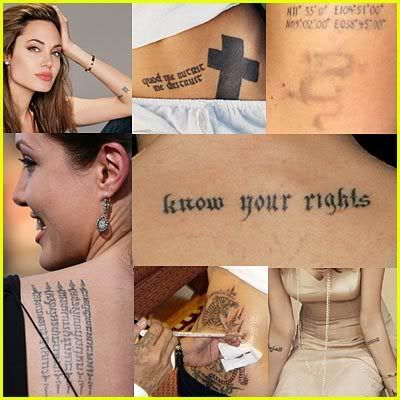 List of Angelina some Jolie's Tattoos:
A big black cross on her left hip,is a cover up for a tiny blue dragon she got while drunk in Amsterdam.
A big Asian tiger on her back, with a dragon tattoo beneath
A Buddhist Thai prayer for protection-also a cover up for the Japanese kanji for "death."
Words "Know Your Rights" just below her neck.
Arabic script tattoo on her right arm means "Determination"-also replacement for a tattoo
A Tennessee Williams quote on her left arm "A prayer for the wild at heart, kept in cages." -cover up for the Japanese word for "courage."
"Quod me nutrit me destruit"Latin quote for"What nourishes me also destorys me")-lower stomach.